Profile
---
Hengtian Dadi automobile co., ltd., a part of state-owned Hengtian group, an investment holding company by CHTC, a core special-vehicle manufacturing company under Hengtian automobile strategy. Located in Dingxing hi-tech. industrial zone, no.111 yingbin South Street, Dingxing County. It is approved and registered by national development and reform committee. Whole area is 220 thousand cube meters, building area is 100 thousand cube meters, and more than 1000 employee now, capital assets is 280 million RMB. Sticking to the principle of costumer first, quality fist, strictly enforce 3C and ISO9001 quality control system, carry out 7S Toyota management model, to manufacture the super quality products in production process.
Dadi brand series products including dumping truck、semi-trailer、mine-used truck 、cement mixer and transport van etc. , more than 100 types, lots of them got national patents, now annual production ability is 15 thousand units, network cover Beijing、 Tianjin、 Hebei 、Inner-Mongolia、 shanxi、 shan'xin、 xinjiang、 Tibet 、Anhui and china north-east region, same time export to middle Asia and African oversea areas. Is a main upload manufacturer in North china of Foton、 Shanqi 、Sino-truck、 Northern Benz 、Hongyan、 Hualing groups. Advanced equipments including welding painting and assembling testing lines, have a standard tech.. and perfect manufacturing system, to ensure a steady and splendid future.
Based on strictly management, with a strategy eyes, we will enforce an flexible marketing plan, modernize the production and quality system, territorialize sales promotion program, personalize after-sales service, take " Cooperation, Innovation and Excellence " as spirit, take "for the people , for the life "as goal, take " Achievement, Regulation and Credibility " as core value, adopt encouraging system, pursue tech. innovation、 management innovation 、marketing innovation, make our best to reach one billion output in 2012, gradually to form a Collectivization system. Up to 2015, employees will be 5000 , 2 billon more investment be completed , also will create a national-level tech. center, to realize digitalizing、 networking、 informationazing in data system , shorten the new products developing period, meet costumer's personalizing requirement, will annually produce 100 thousand light duty cars and 20 thousand special vehicles, sales proceeds will reach to 5 billions. Join hands with domestic and overseas, to make contribution to economic development and harmony society.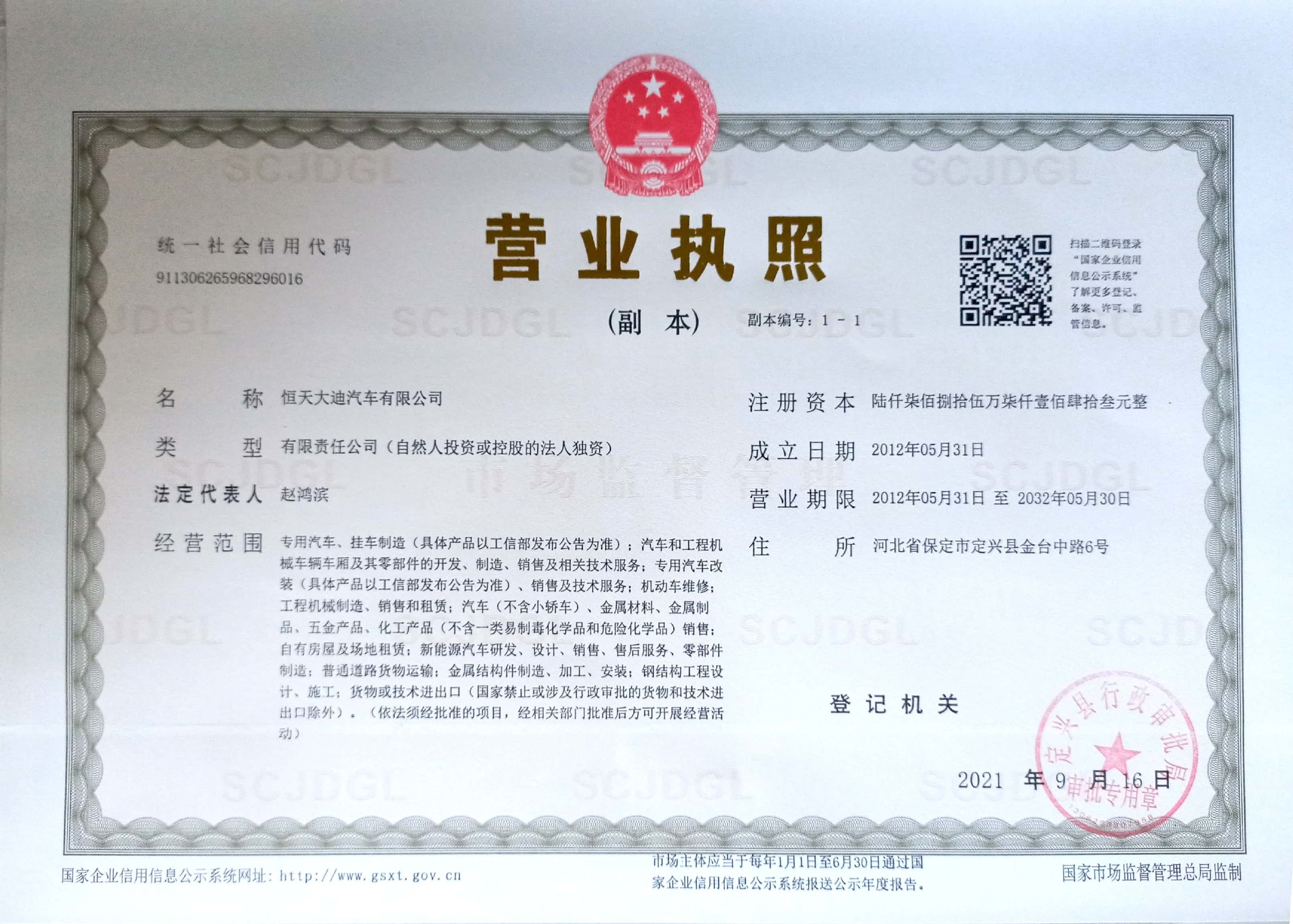 Hengtian Dadi
---
copyright © 2022 Hengtian Dadi automobile co., ltd.,